AIRLINES
We recommend flying into St. Maarten (Dutch side) and reaching Anguilla by public ferry or boat shuttle. You can also take a short flight over from St. Maarten via Anguilla Air Services (anguillaairservices.com).  Flight service to Anguilla's Clayton J. Lloyd International Airport is available thru San Juan, PR on varying regional airlines.  The service changes frequently and with the season, so we don't note them here.
Airlines serving St. Maarten (Dutch Side) are listed below:
United States
American Airlines direct from Miami, Charlotte, Philadelphia, New York with connecting flights from numerous cities throughout the U.S
United Airlines direct from Chicago
Delta Airlines direct from Atlanta, with connections from other U.S. cities
Jet Blue from New York (JFK) and Boston
Spirit Airlines (Fort Lauderdale)
Canada
Air Canada direct from Toronto
Europe
KLM direct from Amsterdam, with connecting flights from numerous cities throughout Europe
Air France direct from Paris, with connecting flights from numerous cities throughout Europe
British Airways from London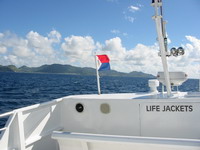 Public Ferry Service from Marigot, St. Martin (French Side)
Taxi service from Princess Julianna Airport on the Dutch Side of St. Maarten to Anguilla ferries at the Marigot Ferry Dock (French Side) is as easy as stepping outside the airport door. Taxi fee to Marigot is $20.00US (some fees apply for extra luggage). Travel time is about 20 minutes, depending on traffic. The taxi ride offers some beautiful views of both the Dutch and French sides.
Upon arriving at the ferry terminal in Marigot you will need to register for the ferry. You will need to present your passport to the ferry office and pay a departure tax of $5.00US per person. You will be given a boarding pass.
Ferries depart approx. every 45 minutes from Marigot for the 20 minute ride – You are on island time now!
Capt. Joe's inside the ferry terminal is a great place for a cold drink (Try Capt. Joe's Rum Punch)
Ferry cost to Anguilla is $20.00US per person, usually collected during the trip.
Upon arriving in Anguilla you will need to clear Immigration and Customs.
You will need to note on your immigration form that you are staying at ALMOND TREE VILLA in SEAFEATHERS.
Ferry Service directly from the Airport
Several small shuttle boats provide ferry service, directly across the street from the Princess Julianna Airport, to Anguilla.
Calypso Charters, Ltd.: info@calypsocharters.com; 264-584-8504
Funtime Charters: funtimecharters@yahoo.com; 264-497-6511, 264-235-8106
GB Express: afscs@anguillanet.com; 264-235-6205, 264-235-7010